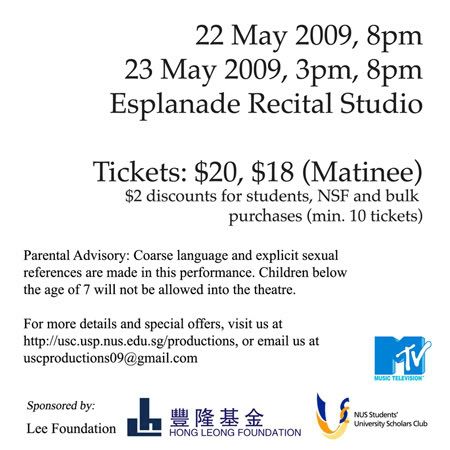 Something Old, Something New, Something Borrowed, Something Blue is a quadruple-bill presented by the NUS University Scholars Club (USC). This year's production is directed by Leonard Augustine Choo, and features plays written by Christine Chong, Lucas Ho and Laremy Lee.
Date: Fri, 22 May 2009 – Sat, 23 May 2009.
Time: 8pm (Fri and Sat); 3pm matinee (Sat).
Venue: Esplanade Recital Studio.
Tickets: $20, $18 (Matinee).
$2 Discounts for students, NSFs and bulk purchases (min. 10 tickets)
Parental Advisory: Coarse language and explicit sexual references are made in this performance. Children below the age of seven (7) will not be allowed into the theatre.
For more details and special offers, visit the Facebook Event Listing, the production website or drop the club an email.
Join us and our talented cast for tears, laughter and everything in between. Welcome to the wedding of the year.
---
I've contributed a 20-minute play to the production, no-strings attached. Sort of like my way of saying thanks to the USP (University Scholars Programme) and the USC. You can read the latest revision here if you like, or read the blurb below:

Something Old
By Laremy Lee
The aisle has been swept, the guests are seated, and the ceremony is about to begin. But just when everything seems to be going according to plan, two uninvited guests arrive. Benjamin, the groom, must explain as best he can why he has not invited these two guests – a particularly difficult task, given that they are his own parents.
Hope to see you there! 🙂